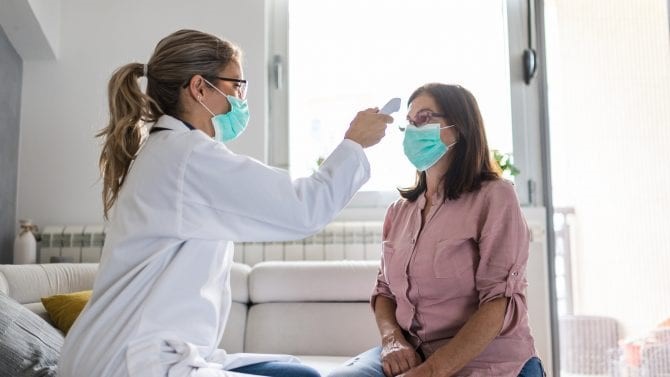 Staffing Trends
Posted on Sep 14, 2020
The COVID-19 pandemic has changed how Healthcare is delivered in the US and affected the operations of healthcare facilities and medical offices. According to U.S. News, from February to June, states across the nation have seen a marked loss in outpatient healthcare jobs in the wake of the COVID-19 shutdowns, with New Jersey and Rhode Island seeing some of the steepest declines for medical and dental offices, medical labs, home health care and other outpatient services. The suspension of elective (non-urgent) medical care amid the pandemic and patients' fear of exposure, had taken a toll on health care businesses. Many offices sat open but largely idle because patients were too scared to visit the doctor given the risk of running into someone with COVID-19 in the waiting room. Previously since March, only emergency surgeries were permitted to be performed; now elective surgeries are finally allowed.
Fortunately, in July, a renewed optimism prompted a sudden surge and rise of elective surgical appointments. Employment agencies are noticing the trend. Consequently, New Jersey employment agencies have strongly stepped in to lend a helping hand to staff medical facilities as they begin to reopen with safety measures in place, in order to resume care and treatment of ongoing health needs that had been postponed.
According to the Bureau of Labor Statistics, employment of Medical Assistants is projected to grow 19% from 2019 to 2029, much faster than the average for all occupations. The growth of the aging baby-boom population will continue to increase the demand for preventive medical services, which are often provided by Physicians. As a result, Physicians may need to hire more Medical Assistants to perform routine administrative and clinical support functions, allowing the Physicians to see more patients. Medical Assistants not only assist and prep patients in exam rooms, but also process patient flow and scheduling up front. Healthcare employment agencies are answering the call with providing qualified trained and experienced medical staff in highly skilled health care areas, such as Licensed Practical Nurses (LPNs) and Certified Medical Assistants. An employment agency's responsibility is to verify the license and check that a Certification is from a reputable organization. In addition to reviewing credentials from states like New Jersey, the employment agency also performs reference checks.
A healthcare employment agency also covers the need for flexible hours. For example, employment agencies provide employees who can work 2nd or 3rd shifts (evenings and weekends). Many healthcare facilities operate a 24/7 office environment.
Additionally, as a matter of taking protective measures, medical offices are adhering to and following infection prevention and control recommendations tailored to their setting minimizing risks to both patients and staff. In this new world, temporary employees from a health care employment agency are thoroughly trained to perform these task and given PPE in order to work next to employees.
With the increase in patient flow comes an increase in testing. In the medical laboratory and diagnostics environment, there is also an urgent need for Specimen Processors to process and test patient blood and specimen samples. In this role, employment agency employees not only read the results of various medical tests, they also receive the vial of patient's blood, perform the test, and provide the diagnostic test results to patient by phone and email.
A healthcare employment agency is a viable partner to the medical community. They enlist a wide range of health care employees with specialties to satisfy the need for available pre-qualified ready-to-work employees. The agency responds at rapid speed, as many of their employees have previous success in completing assignments in a health care office, laboratory, or hospital facility, for the employment agency. This hiring activity can be placed in the hands of a reputable and established employment agency.