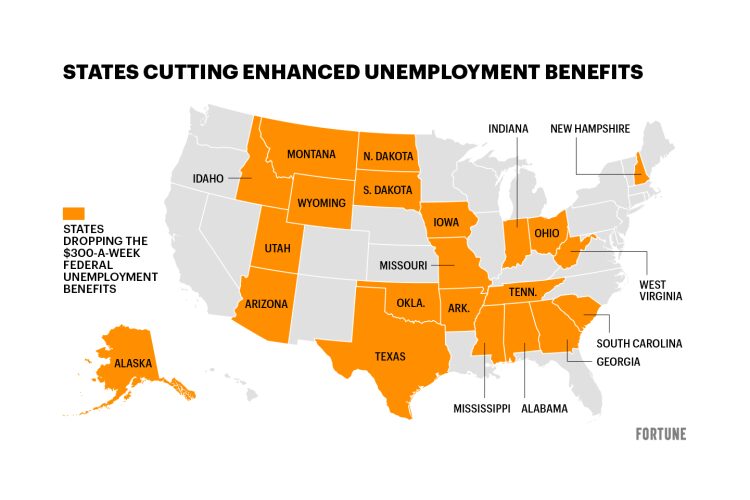 Staffing Trends
Posted on May 21, 2021
In recent weeks, 15 states have announced plans to opt out of federal COVID Unemployment Insurance programs. It is important to note that every state signed an agreement with the US Department of Labor back in 2020 to administer the various relief provisions in the CARES Act. Those agreements have remained in effect with each extension, including the recent American Rescue Plan Act.
States are ending their participation around two or more months early — anywhere from June 12 to July 10. (It varies by state.) These states will soon stop sending out $300 weekly unemployment benefits, Republican state governors argue that the federal benefit—which is paid on top of state benefits—is incentivizing jobless Americans to not go back to work. They claim enhanced unemployment benefits offer an incentive for people to stay home and not look for jobs — leaving businesses struggling to fill open positions.
Alabama, Arizona, Arkansas, Georgia, Idaho, Iowa, Mississippi, Missouri, Montana, Ohio, North Dakota, South Carolina, Tennessee, Utah, and Wyoming will no longer participate in various programs included in the American Rescue Plan Act (ARPA). The programs include:
Federal Pandemic Unemployment Compensation (FPUC) – additional $300/week
Pandemic Unemployment Assistance (PUA) – program for those not covered under regular Unemployment Insurance
Pandemic Emergency Unemployment Compensation (PEUC) – 25-week extension of benefits
Mixed Earner Unemployment Compensation (MEUC) – combined covered/non-covered earnings
Emergency Unemployment Relief for Governmental Entities and Non-Profit Organizations – 75% relief of benefit charges
Job openings hit a record high in March, the Bureau of Labor Statistics reported. Meanwhile, the U.S. economy added 266,000 job payrolls in April — much weaker than the 1 million expected, the Bureau said last week. In other words, there's strong demand for labor as the economy reopens, but not a commensurate flood of workers onto payrolls.
Although unemployment benefits are a crucial lifeline for unemployed workers, there is currently a strong need for talented workers. Returning to the workforce is the ultimate goal so now may be the time to land a new job now while the market is hot.